Membrane Filter Press /Diaphragm filter press
Product Details
Model:XMG870-30U/XMG1000-30U/XMG1250-30U/XMG1500-35U
Plate No.: 18/19-70/71
Volume of chamber:745L-20000L
Payment&Shipping Terms
Payment Terms:L/C,T/T,D/P,D/A,Western Union
Pakage Details:Wooden package or as your requirements
Delivery Time:15-30 working days
Inconterm :FOB,CIF,CFR,EXW
Why choose us
1.JINCHENG have more than 20 years history for R&D and production of serious filtration equipments,we are not only have strong technical support but also own advanced processing equipments,which enable us to product the large and medium-sized machine;
2.All raw materials come from well-known manufacturers to ensure the stability and service life of the equipment in the later stage.The quotation is very competitive in the market
3.JINCHENG Filter Press are deigned to generate easily managed dry product or waste material, the filter press also provides tha ability to optimize the recovery of clean,resuable water.
4.JINCHENG Filter Press can equip with different funcitons to meet customer rquirements, for example, quick-open system, shaking device,self-washing system and so on. we will design and help to build a whole production line;
5.JINCHENG Customer Service Team offers a wide range of fast spare parts sourcing as well as routine and emergency maintenance service support. All 6.JINCHENG Filter Presses can have customer remote control access capability for efficient monitoring and troubleshooting
Working Principle
The membrane filter press or diaphragm filter press is composedof membrane plate and chamber plate, which are arranged to form a filter chamber.Under the pressure of feeding pump,the slurry will feeding into the filter chamber, and the solid and liquids are separated through the filter medium(filter cloth).After the solid forms cake,air or high pressure water will send into inner layer of diamphram to fully press the middle cake, reduce more water content and facilitate the removal.For the filtration of viscous materials and high requirements to the final water content,the membrane filter press is a good choice.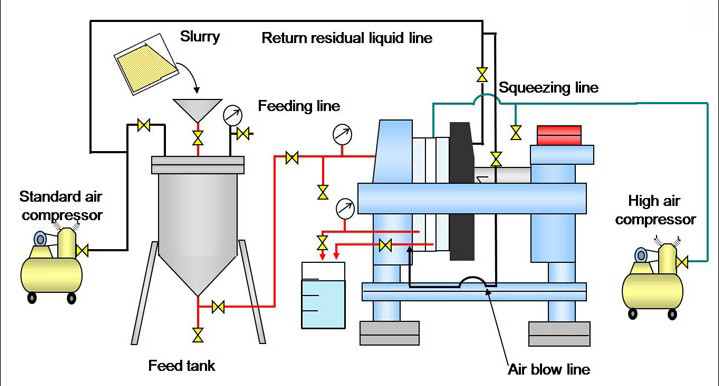 Specification
Model

Filtering
area

Plate
size(mm)

Chamber
volumn(L)

Cake
thickness
(mm)

Plate
number

XMG/870-30U

50

870*870

745

30

18/19

60

900

22/23

70

1053

26/27

80

1170

29/30

XMG/1000-30U

80

1000*1000

1175

22/23

90

1330

25/26

100

1480

28/29

770

1635

31/32

120

1785

34/35

XMG/1250-30U

120

1250*1250

1785

30

21/22

140

2110

25/26

150

2270

27/28

160

2430

39/30

180

2760

33/34

200

3000

36/37

250

3810

46/47
Get in touch
Welcome to visit our website. If you need an olive oil production line, please write down any questions, we will reply as soon as possible.